History of the Slovak Arachnological Society
Arachnological Section of the Slovak Entomological Society (AS-SES) was established on "The 1st All-state meeting of the Czechoslovak arachnologists" (held in Turčianske Teplice, June 1974), as the first scientific society of the Czech and Slovak arachnologists. 18 founder members from Bohemia, Moravia, and Slovakia participate in this event (photo). Untill then "The Centre of Arachnological Research" working at the Department of Systematic Zoology, Faculty of Sciences, Charles University in Prague, where the leading worker was Jan Buchar (*1932–†2015). This centre was officially established in the beginning of 1972. Jaroslav Svatoň (*1933–†2019), zoologist working in Turiec Museum of Andrej Kmeť in Martin became the first president of the AS-SES. The founding of the Arachnological Section was very important for stimulating spiders´ study in Slovakia and encouraging cooperation between Slovak and Czech arachnologists (see also history of the Czech Arachnological Society).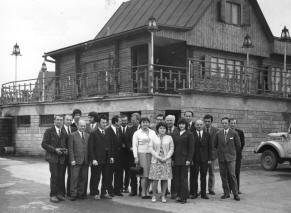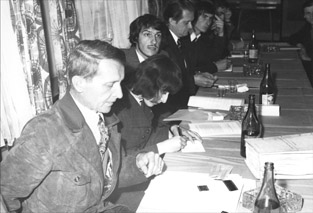 Arachnological Section SES in this form working untill 1993, when Czechoslovakia was divided into two independent states, the Czech and Slovak Republic. The federal competence of AS SES was determined in February 1994 (the last meeting in Ostrava). Despite of this Czech colleagues continue in their membership and work in AS-SES. Peter Gajdoš (1994–1996) and Jaroslav Svatoň (1996–2011) served as presidents of the society, Boris Astaloš (1996–2002) and Ivan Mihál (2002–2011) served as secretaries. Arachnological Section existed untill 2011, when it was transformed into a civic association under the name Slovak Arachnological Society, independent from in that time passive and functionless Slovak Entomological Society. SARAS was established by 16 founder members in March 2011 on the ground of Institute of Landscape Ecology SAS in Nitra (photo). Zuzana Krumpálová became the first president of the Slovak Arachnological Society.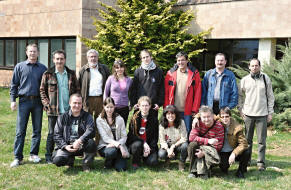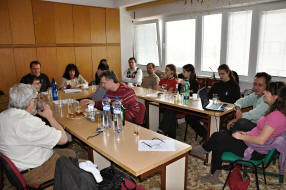 Since 1997 the Arachnological Section SES under the leadership of Jaroslav Svatoň started to organize field excursions called Arachnological Days. In 1998, the first Conference of the Slovak arachnologists held in Nitra (since 2009 called simply Arachnological Conference). Next year, the Arachnological Section of the Slovak Entomological Society co-organized European Colloquium of Arachnology in Stará Lesná, for the first time in Slovakia (photo). The same year, Catalogue of Slovakian Spiders, containing data on 927 spider species known up to 1998, was published by Peter Gajdoš, Jaroslav Svatoň and Karol Svoboda. Since 2004, our Arachnological Conferences held in campground of the Institute of Landscape Ecology SAS in Východná under the leadership of Peter Gajdoš and Zuzana Krumpálová, and with book of abstracts. As a result of our Arachnological Days, in co-operation with the State Nature Conservancy of the Slovak Republic we release two books – Arachnids of the Poloniny National Park (Arachnida: Araneae, Pseudoscorpiones, Opiliones, Acari – Parasitiformes) in 2003 and Arachnids of the Cerová vrchovina Highland (Arachnida: Araneae, Pseudoscorpiones, Opiliones, Acari) in 2009. In 2004, the Catalog of Slovak Harvestmen was published by Slavomír Stašiov. In 2011, the identification key to our pseudoscorpions was published by Jana Christophoryová, František Šťáhlavský and Peter Fedor. The first SARAS Bulletin was released in 2012, the tradition of irregular arachnological excursions was renewed under the name Field Arachnoexcursion in 2013 (also see chronicle) and website of SARAS was created in 2016. At least, the book Spiders of Slovakia (authors Peter Gajdoš, Ľudmila Černecká, Valerián Franc and Anna Šestáková) was released in 2018.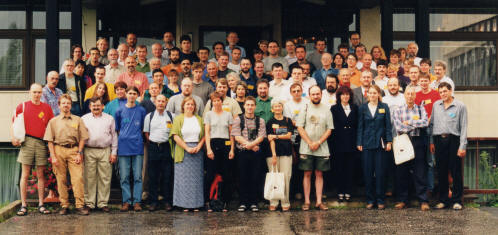 The Slovak Arachnological Society includes both professional and amateurs arachnologists. It has over 40 members from Slovakia and the Czech Republic. The main aims is to join people interested in arachnids, organising meetings and field excursions. Scientific results of our members are published in prestigious scientific journals and presented on arachnological and acarological congresses worldwide.

statute (in Slovak)

members

application


Pavouk, bulletin of the Czech Arachnological Society