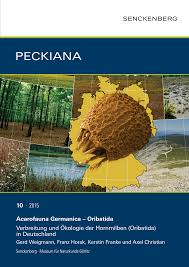 Gerd Weigmann, Franz Horak, Kerstin Franke, Axel Christian (2015):
Acarofauna Germanica – Oribatida.
Verbreitung und Ökologie der Hornmilben (Oribatida) in Deutschland.
Paperback | September 2015 | ISBN: 9783981524116 | 171 pages | Publisher: Senckenberg Museum für Naturkunde Görlitz (Peckiana No 10) | b/w maps.
The regional distribution and the ecological preferences in Germany of 570 species and subspecific taxa of oribatid mites (Acari, Oribatida) are compiled and presented in raster maps. Main sources of the data sets are about 120 publications and several unpublished research results in examination theses, additionally some collections in museums and universities are regarded. For each species, the basic taxonomical information is presented, as original description and synomyms used in German references. The distribution in Germany is pictured in maps with about 200 raster fields and textually as occurrence in the German Federal States. The ecological information for each species considers all findings in different habitat types, preferred habitats are highlighted. Additionally the preferred substrate type (as soil, tree bark, water) is marked.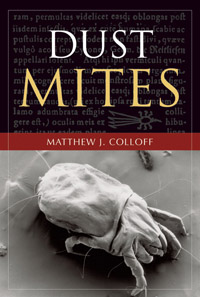 Matthew J. Colloff (2009):
Dust Mites.
Hardcover | June 2009 | ISBN: 978-90-481-2224-0 | 583 pages | 275 x 195 mm | Publisher: Springer & CSIRO for Australia | b/w photos, b/w line drawings.
Conservatively, at least 100 million people are affected by house dust mite allergy worldwide, manifesting itself as asthma, rhinitis or atopic dermatitis. Despite the growing recognition of this major public health problem, and commitment of considerable research resources, there is still no simple, effective, generally-applicable strategy for dust mite control. The reasons for this are complex, but a contributing factor remains some important knowledge gaps and misconceptions regarding aspects of biology and ecology of dust mites.
The purpose of this book is to provide a comprehensive reference work for all readers with an involvement or interest in house dust mite research and management, incorporating for the first time in a single volume the topics of systematics and identification, physiology, ecology, allergen biochemistry and molecular biology, epidemiology, mite control and allergen avoidance. It is hoped the book will help spread the message that studies of the biology and ecology of house dust mites should be regarded within the context of allergic disease rather than as ends in themselves, and that approaches to mite control in clinical management are subject to the same series of ecological rules as any other major problem in pest management.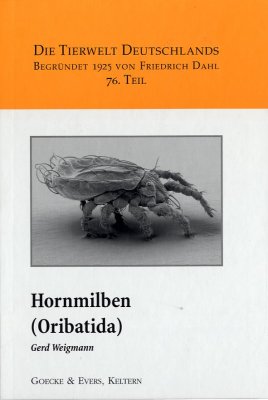 Gerd Weigmann (2006):
Hornmilben (Oribatida). Die Tierwelt Deutschlands. 76. Teil.
Hardback | June 2006 | ISBN: 978-3937783185 | 520 pages | Publisher: Goecke & Evers | b/w line drawings.
The last complete textbook of oribatid mites from Germany is 75 years old (Willmann 1931). This contribution deals with the identification of oribatid mites (Acari: Oribatida) of Germany and the adjacent regions of the neighbouring countries. The keys comprise 84 families with more than 190 genera. About 520 species from German areas are described for which chorological and ecological data are given. Altogether about 620 species are treated including those which have been found up to now in the adjacent regions, only. The keys are illustrated by 234 tables with informative line drawings. The appendix presents a family key in English, additionally. The book is essential for taxonomists and ecologists dealing with Centraleuropean oribatid mites.